In today's increasingly competitive world, companies need to innovate if they want to stay ahead in their fields and remain successful, this requires good marketing campaigns.
That's why today we're going to see that one of the keys to this marketing success can be the use of a voice-over and how this can really become an asset for your business.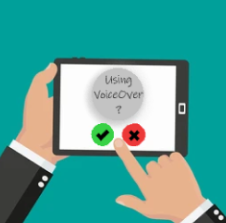 One of the first things to realise is the strength of voice-over is its multiple possible uses. Indeed, voice-over is an asset that can be used for commercial purposes, as a promotion of a service, or for a simple tutorial explaining how a product works.
When making a communication video, the addition of a voice-over is almost essential. This tool will allow you to convey the message you want, at the very moment your audience is watching your video. It gives your brand or product a voice with a unique tone and character. The voice and the way it is expressed, is how your brand will be experienced. Are you enthusiastic, or empathetic or dull? How the voice is experienced is how your brand will be experienced and perceived.
It is often said that a picture is worth a thousand words, but adding a voiceover to your content helps to clarify any questions the viewer may have while watching and to ensure that the message is understood by the listener. In addition, more than 70% of people prefer to watch a video than to read a simple text. Video has therefore become an important part of the message and so has the voice-over.
It is also important to know that when your marketing campaign is well executed it can increase the visibility of your company or services. This is even its main advantage with the acquisition of new customers and differentiate yourself from the competition.
Wanting to differentiate yourself from the competition is an opportunity for expansion that voice-over can offer with its addition to your content. And you will stand out from your competitors who don't use this marketing tool.
It is important to know that the voice captivates, interests, questions and incites in a natural way for the listener. Indeed, it has become normal for us to watch any visual content with an accompanying voice, be it cartoons, commercials, documentaries.
Choosing a voice-over with a good tone will make the video more attractive than simple subtitles and therefore more presentable. Even though, do not forget subtitles for those hard of hearing, or those watching the video in a place where they cannot turn up the volume.
But you should know that the average time spent on a website is 10 seconds, for your video it's the same process. Indeed, if from the beginning there is no sound or something attractive, it will be harder to keep the attention of your audience. That's why using a voice that matches what you are presenting and a script that is specific to your activity will help to keep your audience interested from the start.
It's therefore necessary to leave an impact on the audience from the first second so that they are interested in your video. To do this, a voice that fits your subject perfectly must be carefully chosen, but…
How to choose your voice ?
That's true that choosing a voice on your own isn't an easy task. Calling on a professional studio specialised in the field seems to be the best solution to be well advised and not to make mistakes in your marketing strategy
A team like 2002 Studios will use its skills to achieve the objectives of your project. With its experience, it will provide you with the best native voices in the desired languages so that you can determine for yourself which one you are most satisfied with. The voices selected by 2002 Studios are experienced voices that will present your message effectively and easily convince your listeners. In order to enlighten you even better on the subject, I invite you to read the very good article :
---